Cycling on the coastal trail
Each tour is planned individually. Since the weather must also be suitable for the activity in question, a tour may start at short notice or have to be postponed. Today we go on the coastal trail. I will pick you up at your hotel, your holiday home or at the cruise port. We drive to the start of our tour in my truck, on which the bikes are already safely loaded. There are three preferred starting points. Near Port Hasting, Port Hood or Inverness. On day trips, I always recommend driving only half of the coastal trail. We start in a parking lot. The bikes are unloaded and off you go. The coastal trail offers great views, varied landscape and beaches for swimming. At noon, we reach our turning point. There is usually also the opportunity to enjoy delicious local cuisine. After dinner, the trip goes back. Depending on the season, we reach the starting point shortly before sunset.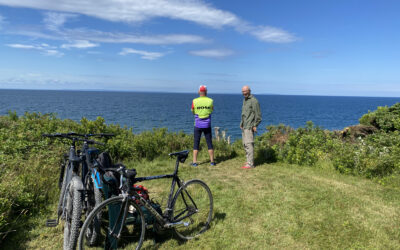 Several bicycles are available for tours. A total of 7 bicycles, including 4 e-bikes. We always use e-bikes for tours with guests, except that someone expands to request a standard bike. If I act as a guide, 3 more people can come along. You want to order? Ask me!...
read more
You want to order? Ask me!
Write me a message, if there are questions or if you want to order your personal VarioFigure.